Blood
Yesterday afternoon was shaping up quite well. Orla was asleep in her cot. I was working at the computer. Isabelle and Aidan played outside by the deck. The sun was shining and I had the door open so I could listen out for them as I worked.
Then came the screams. Aidan came stumbling through the door with his hands on his forehead. Blood was pouring out between them. I got him into the bathroom sitting on the stool leaning forward, and pressed the nearest flannel to his face to apply pressure. I knew that head wounds tend to bleed profusely even when they are teeny tiny, but the amount on his clothes and pooling at his feet was impressive. A trail of red led from door, to computer, to bathroom.
By now Brendon had come back inside and was on mopping duty.
After a few minutes I managed to take a peek and saw a relatively small wound (about 1 centimetre across) which looked disturbingly deep to the lay person. Aidan took a long time to calm down. Isabelle told us that he had had a run in with a metal stake.
Brendon eventually got most of the blood mopped off, and after a drink and something to eat Aidan was almost back to his usual self. I insisted on a bandage as blood was still seeping - this was achieved with bribery and corruption (a promised ice cream). I also insisted that we were going to take a trip to the after hours to get it looked at and properly cleaned.
Brendon and girls dropped Aidan and I off - one look in the door and I saw that we were going to be there for a while. And the after hours waiting room is not a place you want to be unless you really have to be.
By now, Aidan could only be described as perky. I felt like getting him to whimper or something, or have a dramatic gush. Perkiness does not improve our triage position! But seriously, there is no ethical way I would have gone ahead of most of the people in that room. There were some very sick little children, adults looking like death, someone on oxygen. After a bit of exuberant running around with a truck, Aidan settled down to read a Tintin book with me. We watched a bit of Olympic gymnastics on the telly. Aidan said "I think it's great that a little kid can do that" (as we watched a tiny Chinese gymnast on the uneven bars). I told him I suspected she was a little older than she looked.
Then on came the boxing. Aidan looked confused and asked what this was. I said it was called boxing, and the men were trying to get points by hitting each other. Aidan said "That's not right". I mentally sighed, and said something like it was OK when adults agreed to do it when they had rules, pointing out the referee etc. But that it was not OK for children to box each other. And even then some adults think that boxing is not OK.
Since when did an easy parental absolute (hitting each other is wrong!) become so complicated?!
Anyway, we saw the nurse, then the doctor, then the nurse for three steri strips, a clean and a waterproof bandage. $40, including $12 for the bandage. I should have bought my own from the chemist next door. But still, I was happy to pay it and happy that we could afford to.
Aidan was a model of patience and good behaviour.
The injury happened around 3.00 - we were back home to devour the dinner that Brendon had cooked in our absence by 7.00. And of course, we had the promised ice cream that we picked up on the way home. Aidan went to bed soon after. I checked him three times in the night as he chose last night to almost sleep through without coming into our bed for his customary pre-midnight cuddle.
I just asked Aidan how he feels today - "My cough seems to be gone. (cough, cough)". So I guess that means he is just fine.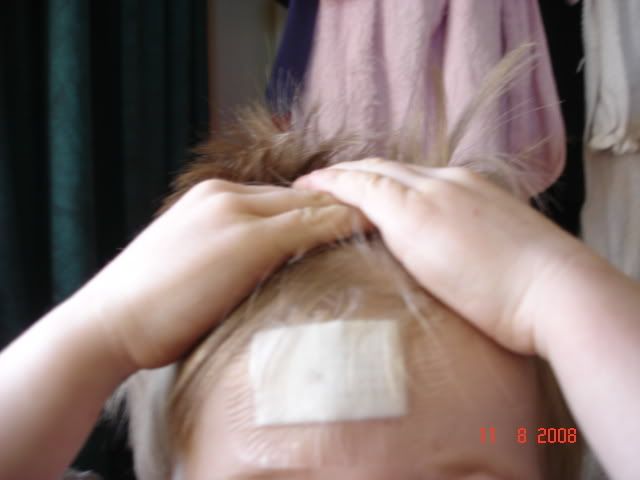 The bandage is discreetly hidden by his fringe.
Labels: Aidan