Easter 09
Easter - new life, new hope - new baby!
Welcome to our family little Bella! Can't wait to meet you in person.
Everything else about this year's Easter pales in comparison to this wonderful news - however, here's how it's been for us.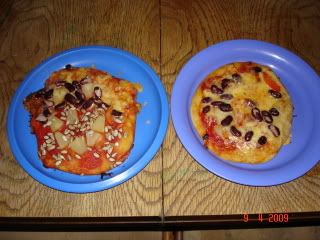 On Excellent Thursday I got out the breadmaker to make pizza dough. I hadn't made bread since the early days of pregnancy with Ewan (when I was getting super tired and something had to give. That something was home-made bread). It looked like disaster initially as the breadmaker blade didn't want to turn. I guess if moving parts don't move for a while, lubrication becomes an issue! I turned it manually a few times, and by the end of the kneading cycle all seemed back to normal. The photo is of Isabelle's and Orla's pizzas. Isabelle's is a portrait of Daddy, complete with glasses. The cooking process muddled his features a bit, but that means you just have to look more closely.
It was a stunning day on Good Friday. I had an eventful night with Ewan, so we had bought hot cross buns for morning tea. (Pandoro - my favourite commercial ones!). Our own buns, which we were able to have by the afternoon, were chocolate. The crosses were just cut in with a sharp knife this year, for those who wanted them.
On Saturday, Ewan smiled at Daddy. (I had had a lovely first smile in the early hours Tuesday morning).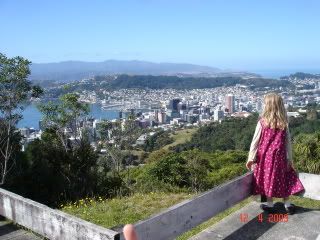 Sunday was another beautiful morning, and we decided to go for a walk as a family for the first time. The lovely quiet of the still morning was broken only by the determined wailing of a toddler who could not decide if she would walk or go in the stroller. The first point of interest was a small river running up out of the road and down the street. A helpful person had put a note on the footpath saying that they had already rung the Council. On we went to the nearby lookout. A virtual prize will be given to the first person via the comments function who can spot Aidan in the photo! When we got back the Council hadn't arrived yet, but I filled some jugs with water in case we were cut off when repairs were made. Three burly men duly arrived shortly afterwards. Aidan, Ewan and I wandered down the street to have a look (we were out on a mission to return a casserole dish to a kind Playcentre person who had made us a meal). We saw a dead rat in the gutter on the way, which provoked speculation on whether a car or a cat was the agent of its demise. Once we returned to the house, thirsty and a bit tired, the water was off. I was glad of the chilled water jugs in the fridge!
Aidan wanted to give some Easter eggs to the workers, so we went off again for our third visit to the site. The large workers delicately peeled the foil away from the tiny eggs and told Aidan to go to university or
he
would end up in a hole. I think they underrate themselves. I place high value on having clean water to our house, and thus place high value on their skills. Hope they were getting some decent overtime.
We had a slow start again today due to some determined night waking by Ewan. Brendon has gone for an extended motorbike ride somewhere. Isabelle and Aidan are outside playing with their new walkie-talkies. Orla wears fewer clothes every time I see her, and as a consequence she has to stay inside. Ewan is sleeping as if it were night....