Rugby boy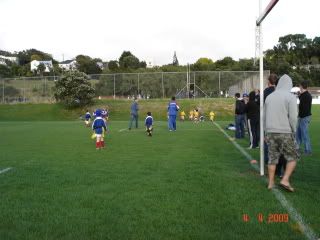 Aidan had his first game of ripper rugby on Saturday. Here he is scoring his first try! (Sadly it's at a distance, but it was worth taking a shot of anyway!).
Aidan says "I avoided the attacker. One of my mates had the trophy and a certificate".
(Aidan's talking about the player of the day award, which already looks like being highly sought after).
Next game is the Saturday after Easter.
Labels: Aidan