Chocolate cake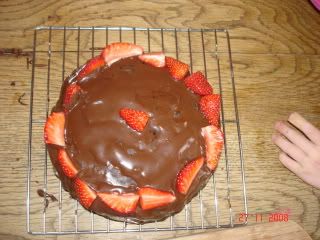 Aidan is a keen cake baker, and is becoming more accomplished at the various baking tasks I set him.
I am becoming more accomplished at being patient while managing multiple bakers, giving clear instructions and enjoying the process!
Here's his latest cake. He did the icing and strawberry decorations himself (to his own design). He was very enthused when I suggested strawberries on top!
I have bought a new book of Christmas recipes to make with children. We are all looking forward to trying some of the simpler ones once the school term has finished.
And the cake was delicious!
Labels: Aidan