Creative and technical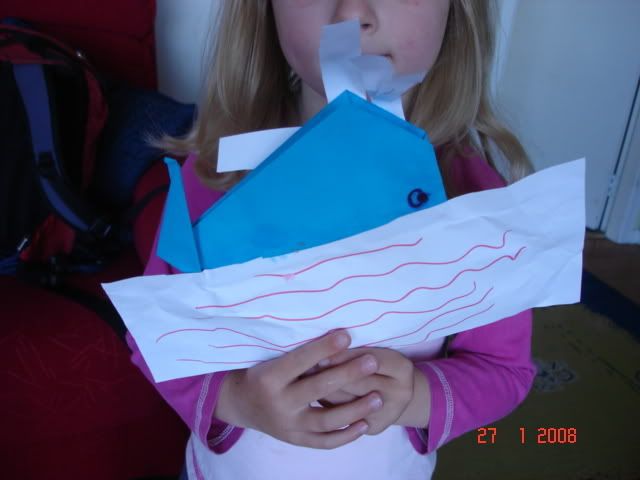 We have been to Te Papa twice recently. The first time was with the cuzzies and resulted in a whale origami pack (referred to in an earlier post below!). The second time, Isabelle and I went to the Whales exhibition together.
The origami pack resulted in an interesting discussion with Isabelle about the difference between what I called technical skills and creative skills. First, we did the origami whale together. This involved following instructions exactly, copying an adult model, precise fine motor skills, spatial relationships and doing something with a tightly defined goal in mind. I explained to Isabelle that yes, she could fold it her own way, but the consequence would be that her origami whale would not look like the one in the picture. We were practicing technical skills.
Origami whales complete, Isabelle went off by herself and came back with what I photographed. I said to her that what she had done was more of an example of creative skills. She had thought about what she wanted to do by herself. She had thought about how she could achieve it using the resources available. She experimented and produced a spouting whale swimming in the sea.
Categories are rarely black and white - and neither are these! But I think this went a bit towards explaining to Isabelle why, despite plenty of worksheets and colouring-in, I complain that she doesn't get to do much art at school!
It's good to have access to all these skills. I was proud of the way she was able to make a whale according to the origami instructions - and I was equally proud of what happened next.