The four elements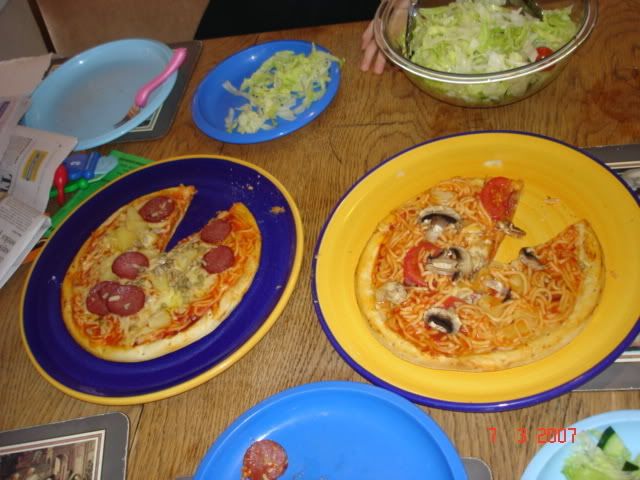 Fire - tonight the older children made most of the dinner. The pizza on the blue plate was created by Aidan, the one on the yellow by Isabelle. This was quite a good late afternoon activity to engage tired children!
Air - Today was very windy. Quite depressing really after a good run of really nice weather. Ah well, at least the washing got dry.
Earth - We have a little hole in our lawn which is getting bigger by the day. Aidan loves playing in the sandpit at Playcentre, and digging in dirt seems to hold a similar attraction. He loves digging for potatoes (great when we need some for dinner!). He also seems to enjoy throwing dirt at Isabelle - not so good and demanding immediate correction....
Water - Well, if our bathroom didn't need redo-ing before, it certainly does now! Yesterday we had a major flood (both taps on and plug left in basin at lunchtime). I discovered the mess when the water had almost reached the lounge, so there was a substantial amount of water to clean up. Part of the lino in the bathroom is now bubbling up. The bathroom cabinet door is swollen with water and can hardly close, and it looks like quite a bit of water has escaped down between the toilet and bathroom walls. There goes the photo spread in
House and Garden
.... ;-)