Christmas doings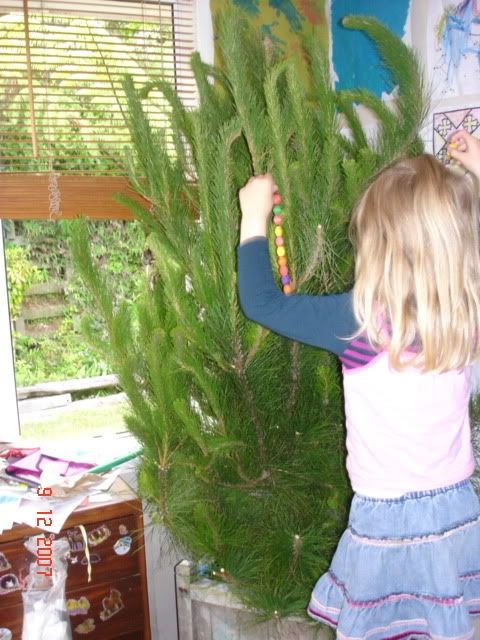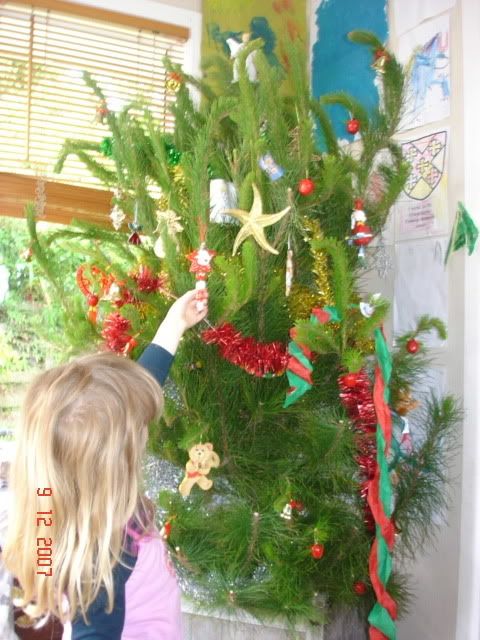 Ahh...the smell of pine is in the air! The christmas tree is up!
Here's some photos. There's Isabelle placing the first decoration into the tree - beads she had threaded herself that morning. And there's Isabelle beside the finished tree.
This year from Kirk's Christmas shop we bought a pohutakawa fairy (gorgeous tinted paua shell), reindeer noel (Isabelle's choice) and gingerbread man (Aidan's choice).
On Friday evening we saw Father Christmas. It looked like Aidan was going to refuse to take part, but he decided to at the last minute and cuddled up next to Santa shyly, answering his questions in a whisper or with a nod of the head. Both children made their (very modest) present requests. Orla (mistaken for a boy) was placed on his knee and we quickly got a photo. Six dollars got me a blurry record of Isabelle and Aidan smiling their special "photo faces" smile, a bewildered Orla and a very merry Santa. Father Christmas gave them lollies and we were on our way.
(FC did a good job and looked the part. As we were leaving, I did see him look discreetly at his watch as another family lined up. It was after 5.oo though....).
Actually this is the first time Aidan has smiled in the photo at all. The first one he (as a baby) looks slightly outraged, the next sad, and last year's shot was incredibly grumpy.
Christmas shopping is scheduled for Wednesday - well the bulk of it anyway.
Labels: Aidan, Christmas, Isabelle, Orla, Suburban housewife