Writing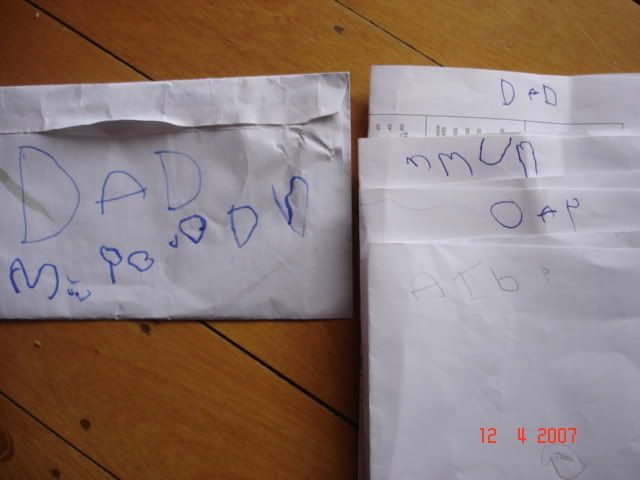 Isabelle has started to write in a way that is recognisable to adults (and thus likely to be noticed and praised!).
The one on the left was done after a Playcentre session where she sent letters to us (and posted them into a post box).
The ones on the right were produced this morning. They say Dad, Mum, Orla, Aidan.
Isabelle has been interested in writing our names. She's been doing this by a mixture of asking us how to spell them (and writing the letter we dictate), or by asking us to write a letter for her to copy. We try and get her to guess which letter might come next by exploring the sounds that words make. I'm aware of the whole "teach them lower case" thing - it's interesting how, nevertheless, she seems to gravitate towards upper case.
Last night, Brendon said that he had written our names on the blackboard. Aidan had swiftly rubbed them out, but this morning Isabelle wrote us all "invitations" by herself in her room. She said to me "look, I've done a proper "b" " when she showed me Aidan's invitation. It seemed as if she was aware that her d wasn't quite right, but was still quite happy that a recognisable letter had been formed.
I've just read this to Isabelle - she says: "A boka boka boo!". OK.....I think that means she is quite pleased I've written this!
Labels: Isabelle